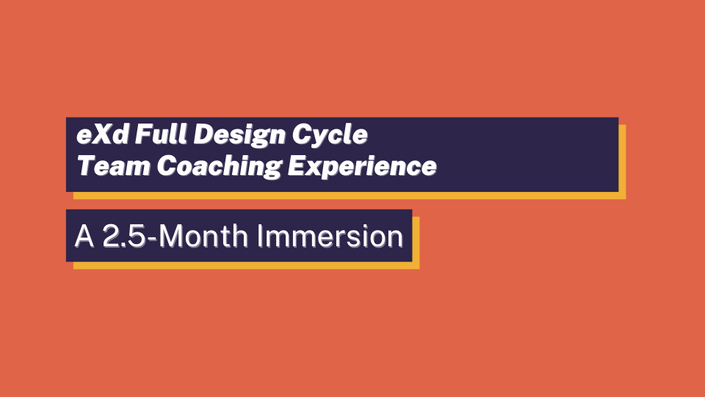 equityXdesign Full Design Cycle Cohort Experience Spring 2023
~This offering is currently sold out!~
We might open more spots in the future, so please get on the waitlist to be notified in case that happens (also, if we offer this experience again, we'll give waitlist folks first dibs before we open the event to everyone else 😎).
What this is:

This 2.5-month offering is designed to guide, coach, and hold you accountable to moving through the entire equityXdesign framework alongside the folks you work with to solve problems at your job (we'll refer to them fondly as your "org team" 💞). Throughout the process, your org team will work together to equitably understand and start solving a pressing, important, and real-life problem that your organization is currently facing.
What you'll get:
You'll experience our entire equityXdesign process: defining problems, practicing meta-empathy (listening to understand the folks you're designing for, while also learning to understand how you're listening), and prototyping and testing solutions.
Additionally, this container is designed not only to help you learn equityXdesign mindsets, tools and processes, but also to give you the space and support needed to develop and practice these new ways of thinking, talking, and acting together as a team. Equitable design is an inherently communal practice, requiring us to intentionally surface and redesign the ways in which we work together to be evermore just and liberatory – and not for a desired outcome, but as part of the desired outcome.
Ergo, both 1. learning the content and 2. practicing implementing said content alongside your teammates are two sides of the same [shiniest and most equitably designed] coin ✨🪙✨
Who's teaching this:
This course will be taught by Dr. Christine Marie Ortiz Guzman, co-author of the equityXdesign framework and founder of Equity Meets Design herself, so don't sleep, don't nap, don't even rest your eyes 👀👀👀
How we'll do this:
This experience will be intimately tied to the "problem" your team identifies as the thing that y'all would like to work on/through during the immersion, which means that the work we'll do in the sessions will be both deeply grounded in your team's organizational context and also appropriate for folks across the spectrum of learning (i.e. from beginners to seasoned equity designers).
There are two parts to this course:
The homework you'll do for ~2.5 hours every week outside of the live sessions on your own time (rest assured: we'll tell you exactly what to do and how to do it), and
The 2.5-hour live, remote sessions we'll have together once a week for 11 weeks on Wednesdays from 2:00 pm - 4:30 pm eastern starting on March 22nd, 2023. In these sessions, you'll work with other folks on your team to apply what you learned from the homework to the org problem you've identified, receiving live coaching and support from Dr. Ortiz Guzman and other EMD team members as needed (and wanted 💘). You'll also have the chance to ask questions and engage in activities and meta-reflections both in your org teams and as a whole cohort group.
This experience will require approximately ⏳5 hours of each team member's time⏳ every week for 11 weeks (that's ~2.5 hours of outside-of-session homework time and 2.5 hours of in-session time per week).
What's included in the container:
✅ Time that's held, structured, and facilitated in which you'll learn and practice equity design as a team
✅ Expert coaching and guidance, including opportunities to ask questions
✅ Activities, tools, and meta-reflections designed to tangibly illustrate eXd concepts and deepen your learning
✅ Lifetime access to the entire equityXdesign learning arc in the form of our asynchronous online courses (this means each member of your org team will get their own complimentary subscription)
What you won't find in this offering:
❌ You won't find lots of direct instruction around the equityXdesign concepts themselves (the reason being that you'll learn the theory via the weekly homework, and then we'll assist in the sessions with real-time application and practice in order to make sure that y'alls rubber actually hits y'alls road 😎🚗)
❌ You won't have elbow room for the 2.5 hours per week of homework – it's crucial for the experience, for showing up for yourself, and for showing up for your teammates!
❌ You're not guaranteed closure and/or concrete "results" – equity design is inherently ongoing in nature, and our gnarliest org problems usually have deep and invisible roots, oftentimes requiring us to peel through many layers of symptomatic problems before truly understanding them, let alone solving them to the point of "satisfaction"
Schedule:
We'll meet once a week for 11 weeks on Wednesdays from 2:00 pm - 4:30 pm ET on the following dates:
Session 1: 3/22/23 - Starting with Problems
Session 2: 3/29/23 - 7PWP
Session 3: 4/5/23 - The Equity Design Brief
Session 4: 4/12/23 - Why Meta Empathy
Session 5: 4/19/23 - Interviews
Session 6: 4/26/23 - Interview Synthesis to HMW's
Session 7: 5/3/23 - Solution-Finding vs Ideation/Brainstorming
Session 8: 5/10/23 - Solutions Criteria & Solutions
Session 9: 5/17/23 - Intro to Prototyping and Testing
Session 10: 5/24/23 - Test Synthesis & Next Steps
Session 11: 5/31/23 - Reflections and Closing
(You'll receive calendar invites upon signing up, and we'll also send 'em out to the other members of your org team once we collect their info -- sign-up logistics are listed below under "TRANSPARENT PRICING POLICY".)
❗💃🏽❗STEPS TO TAKE IN ORDER TO PARTICIPATE IN THIS EXPERIENCE❗💃🏽❗
1. Assemble your org team (do this before enrolling)

You must attend in your org teams (minimum of three people, maximum of six). If there aren't at least three people on your direct team at work, you can attend with other folks from your org, as long as they're somehow connected to the org "problem" you've identified (this can be because they have experienced the problem, helped create or maintain the problem, and/or will be responsible for implementing the solution to the problem). If you have no such luck and don't have (or can't find) at least two other coworkers to attend with, we're sorry but this offering isn't a good fit for you* this time around (we may modify it in order to accommodate solo/pairs of adventurers in the future).
*If you're in this boat, we know it's a bummer, but you have the option to check out our asynchronous online courses which contain our entire learning arc here, and/or join us for our The Problem with Problems Workshop & Train-the-Trainer Series (this too is a live, remote offering involving equity design capacity-building work in teams that is focused on a real org problem, but it's solely for the equitable problem definition part of our process rather than the entire eXd design cycle -- starts on 3/28/23.)
2.Choose the "problem" your org team will work on/through during the experience.
It should be a real and pressing problem in your org that folks on your org team are interested in working on, and importantly, that they have the power to redesign/solve.

~The following steps can be done after enrolling,
but must be completed ⭐before⭐ the first workshop session~
3. Take Intro to equityXdesign!
You must complete [our totally free and asynchronous] Intro to equityXdesign online course before the Full Design Cycle Cohort starts.
4. Commit to doing the weekly homework and showing up to most or all of the live sessions.
You've gotta put in the 2.5 hours per week to do the homework outside of our live sessions (we highly encourage leveraging accountability and coworking time with your teammates)! While we acknowledge that this is a big ask and that life is already overloaded for most of us, we want to be upfront that the homework piece is crucial in order for you to show up both for yourself and for your teammates during this experience.
Also – you must plan to come to all or most of the live sessions! Because our time together will focus on practice and coaching, most of the value is in experiencing the sessions live with your teammates. For this reason, sessions will not be recorded. Yep, you heard that correctly: sessions will not be recorded. One more time for the folks in the back, sessions🗣️will🗣️not🗣️be🗣️recorded🗣️
5. Manage your expectations, take a deep breath, and offer yourself compassion because…

We'll go fast:
This experience is designed to be an immersion, and sometimes when we're immersed in something, it can feel like we're drowning 🥴 (even if we're not!). We'll ask you to take action when you'd rather think first, try things even though you might stumble, and be uncomfortable in new and spectacular ways, both internally with yourself and externally in your relationships with others. And if it feels hard, it doesn't mean you're unworthy or unready for this container and all of its treasures! We'll be here to support and guide you through the experience, and make space for the sensations, feelings, and thoughts that may come up during it because they're part of the process – not a distraction from it, nor a hindrance to it 💖

Even when we finish, things might not feel "finished."
Many of the frameworks, behaviors, and perspectives involved in equityXdesign are counter-intuitive given the conditioning we've each received around race, workplace dynamics and hierarchies, urgency, capitalism, productivity/hustle culture, etc. It takes time to truly interrogate and reframe problems equitably, to understand and internalize these new ways of thinking and being, and to prototype and test solutions together as a team.
It's a perpetually iterative and technically unending process, raising more questions than it answers, surfacing more problems than there is time for solutions, and always challenging us to go against deeply-ingrained habits and instincts. That means that not only are equitable solutions slow and unfolding, they're also usually continuous in nature, requiring repeated revisitation and redesign. In this way, equitable design invites us to let go of what it means to "finish" something, and to embrace equity as a verb, a devotion, an action-oriented stance rather than a satisfying end point.

….in other words, your team may not solve your problem by the end of the experience, or may part-way solve it, or may uncover many more problems underneath your original problem. But, like we said from the get-go, your specific problem is only part of our focus – the act of practicing equity design is most important because it's a prerequisite to your team's capacity to equitably see, define, and solve innumerable other problems together, way beyond the time/space bounds of this workshop.
So, we ask that you practice non-attachment to the "results" of the workshop in the way we're traditionally encouraged to think of them, and instead to keep your 👁️ on that real equity-design capacity-building pr🏆ze: your org team's new and improved ability to see reality together through an equity lens, and to redesign it for greater justice, belonging, and liberation 🥇🏋🏽‍♂️
INVESTMENT:
Enrollment happens in groups (minimum of three people, maximum of six) and is $10,000 total per team. By the way, the team members you start with are the ones you'll end with! Swapping team members mid-way through the experience isn't allowed.
In terms of enrollment/payment logistics, the person in charge of rallying other folks to be on the org team should be the one to sign up and tender payment. We'll get in touch a little bit later to get the names and contact info for the additional 2-5 members on your team.
ACTUALLY, MY JOB SHOULD TOTALLY FREAKING PAY FOR THIS!

We agree, which is why you should send them this Employer FAQ and ask👏🏽them👏🏽to👏🏽pay👏🏽up👏🏽 🤑💸
TRANSPARENT PRICING POLICY:
Wait, is this thing really $10,000?!
*Eh hem* well it's 10gs for up to six people for a 2.5-month program sooooooo
In all seriousness, this is an advanced offering designed to build your skills at each phase of the equity design cycle, with hands-on coaching and guidance from the co-author of the framework, and, well – we priced it that way! And ya know what? That's not all folks. In addition to your 10gs, it's also going to require a generous dollop of your time, heart, and openness, both during the sessions and outside of them, and, in return, we'll give you a bonafide crash course in equity design, building your team's capacity to work this way forevermore.
What if I can't fill every seat on my team?
As long as you can fill 3 total, you're good! The offering isn't priced per person in the traditional sense, it's priced based on the value of an org team learning and practicing equity design together, and taking these new ways of thinking, relating, and working back to their org, thereby building their capacity for equity design everlastingly.
Who gets discounts and how do those happen?
Folks who are subscribed to our newsletter are offered discounts, so make sure you're signed up!
We also plan to offer a slightly-smaller-than-the-newsletter-discount discount to folks who have demonstrated interest in our capacity-building workshops in the past (so, as long as you're signed up for the newsletter and keep your eyes peeled for it, you'll get the "best" discount).
WANT A REFUND?
We want you to be happy and fulfilled, so, if you're not satisfied with the course, please let us know at [email protected] Refunds can be requested up until one calendar week after the course ends and are subject to the details of the situation and what we decide together is the best way to move forward/make things right.
🚨 Important caveats! Not-so-small print! Don't say we didn't tell ya!🚨
*Refunds are not available for scheduling conflicts, even unforeseen ones ☔
We cannot retroactively apply coupon codes!
This is a brand-new offering that we're testing and tweaking and in the spirit of iterative design, we're seeing how folks react to it/interact with it. If we don't get enough org teams to sign up, we reserve the right to cancel the offering (we hope this doesn't happen, but if this scenario does in fact come to pass, we'll promptly issue refunds, do our best to give y'all as much advance notice as possible before the first session is scheduled to begin, and offer you an extra discount towards future iterations of this workshop).
HAVE QUESTIONS?
Email us at [email protected] and we'll get back to you soon 😘
Want to talk to someone from our team before dropping your 10gs?
Understandable lol. We're here for you and down to really hear you out and recommend the best course of action for your team, even if it's not this offering so can't we just talk, can't we just talk, talk about where we're goinnnnnn'
Real talk, here's a link to book directly on Dr. Ortiz's calendar, and if you need to meet at a different time than what's available there, feel free to email ([email protected]) to set that up!
Your Instructor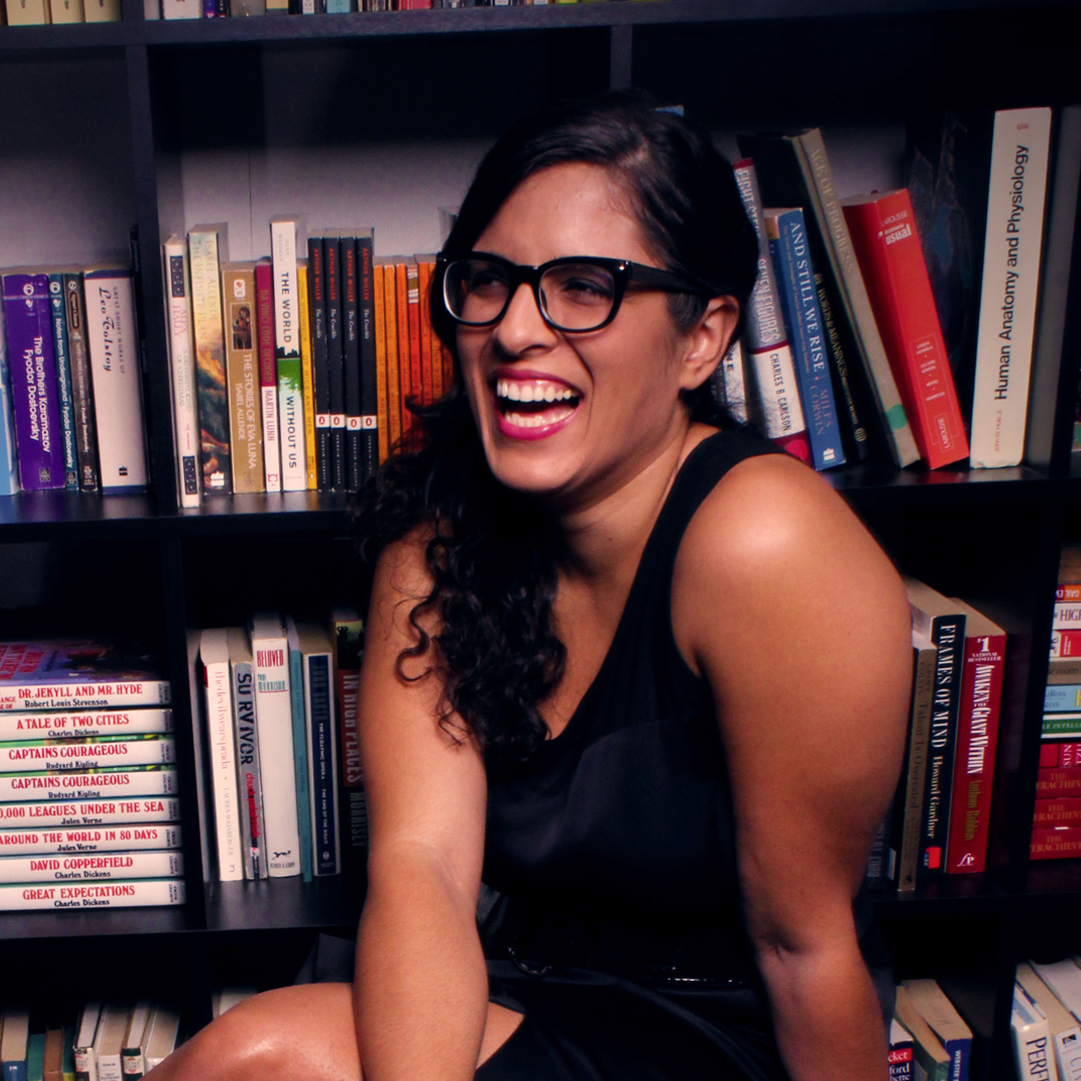 Dr. Christine Ortiz is a serial entrepreneur with a passion for innovation through equity-centered design. She has launched k-12 microschools, consulted for schools in the US and internationally, designed and coached entrepreneurs, coordinated a national competition for innovative school models, and designed and taught graduate-level courses on redesigning schools at the Stanford d.School and Harvard University. Her current venture is Equity Meets Design, a think/do tank merging the consciousness of equity work with the power of design methodologies.
Christine spent her teenage years creating the national Truth tobacco prevention campaign and consulting with states and other countries interested in implementing the model. The first in her family to have a college degree, Christine has a BS from MIT, Masters in Education and Non-Profit Management and a Doctorate in Education Leadership from Harvard University. In all her endeavors, she has been motivated to address the barriers innovators face when tackling complex equity-based social issues.
This course is closed for enrollment.