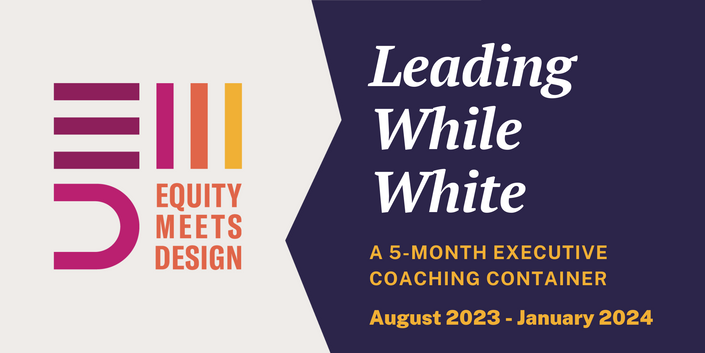 Leading While White
Executive coaching + community for emerging anti-racist leaders.
Enroll in Course
This container is an affinity cohort for cis and trans women leaders who identify as white and who hold significant positional power in their organizations – C-suite or equivalent positionality and responsibilities. It is also open to non-binary and gender expansive leaders who identify as white if you feel this cohort would serve you.
WHAT IS THIS?
This is a 5-month container that will serve as a safe and accountable learning community in which you'll have the chance to 1. receive (and give) support from our team and your peers, 2. surface and make progress on your individual challenges and growth goals around equitable leadership, and 3. learn skills and mindsets that will support you in your journey as a leader engaging in organizational change work.
This container is premised on the following ideas:
We each have unique experiences, histories, and fears that drive our behaviors as leaders
Becoming an anti-racist leader requires us to explore and challenge our fears and survival strategies AND the beliefs about ourselves and the world that underlie them (and this process requires safety!)
A trusted coach and peers who share aspects of our experiences and identities can provide a powerful container in which the aforementioned process can happen in a way that produces sustainable changes and transformations
This offering combines deep, individualized, safe guidance from a seasoned ITC coach, meaningful and substantive peer support, and a proven, systematic process for shifting shame and the behavioral patterns that accompany it in order to support you on your journey towards equitable, anti-racist leadership.
WHAT'S "ITC"?
Immunity to Change™ is a learning process developed by Harvard University faculty Robert Kegan and Lisa Lahey; it's informed by 30 years of research on adult development and used in organizations throughout the world. This approach is specifically designed to help individuals, work teams, and organizations make those personal and collective changes that are most important to them, but have proven resistant even to thoughtful plans to improve and heartfelt intentions to do things differently.
The ITC process first generates a customized picture (the ITC "Map") of a set of counterproductive beliefs, attitudes, and behaviors which are usually invisible and unexamined. The map brings to light the way our current mindset produces exactly those choices which prevent progress on the goal we say we most want to achieve. This is the "immunity to change," and the visual representation of the improvement goal itself, including what someone is doing or not doing instead of said goal, any hidden competing commitments, and the big assumptions a person has about their behavior and/or ability to change. Together, these forces, mindsets, and behaviors compose their Immunity to Change Map.
Once we see the real source of what has been preventing change, the approach guides us on a new path to overcoming it and achieving the desired goal. The process is both diagnostic in its approach to the problem, and methodological and iterative in its approach to potential solutions.
At Equity Meets Design, we've taken the ITC practice and its incredible power to help folks make significant change and added a layer of our own framing and tools that enables us to utilize it specifically to address issues that are connected to our racial identities. Our process will allow you to surface both the white supremacist invisible conditioning we have all received and the denial, shame, and fear that can keep it locked in place. Through ITC by EMD, we aim to guide and support folks to address difficult and stuck emotions and over-turn unhelpful behavioral patterns such that they can become more conscious and effective equity designers and leaders.
WHO IS THIS FOR?
This cohort is intended for folks who hold significant positional power in their organizations – C-suite or equivalent positionality and responsibilities.
This cohort is for cis and trans women who identify as white, and it is open to non-binary and gender expansive people who identify as white if you feel this container would serve you.
In our years of ITC coaching with executives, we've seen it unlock transformation in folks in the nonprofit sector as well as for folks in for-profit organizations and philanthropy. We've worked with leaders just beginning to understand the relationship between their leadership and their racial identity, and leaders who have spent years digging into their identities, but still feel there is more work to be done.
WHAT WILL THIS ACTUALLY LOOK LIKE?
This container includes a mix of one-on-one calls with your coach, Samuel Allen, group calls with the whole cohort, and one-on-one calls with your peer accountability partner.
During the beginning of our time together, Samuel will spend time with you individually to understand your particular context, histories, target goals, and survival strategies in order to 1. Provide you with personalized guidance and support throughout the container and 2. Pair you with the right peer accountability partner in the cohort.
Our cohort calls will center vulnerability, community, and compassion while exploring survival strategies that we all unconsciously employ for safety. We'll design individual experiments around assumptions and triggers in order to shift shame and unhelpful core beliefs and replace them with equitable and sustainable behavior changes.
You won't be required to share any personal details regarding what triggers/survival strategies look like for you during the whole-cohort cohort calls, but the more vulnerable and transparently you share during one-on-one calls with your coach and peer accountability partner, the better shot we have at overturning your immunity.
WHAT WILL I LEARN/EXPERIENCE/DO?
At the start of the experience, we will conduct an interview (the "SOI Interview") that will allow us to identify your current way of meaning making in the world (a.k.a. your "stage of adult development") which will allow us to more pointedly:
⭐ Understand difficult, stuck feelings and counterproductive behaviors through the lens of formative past experiences in order to begin to shift them
⭐ Audit your triggers and survival strategies with clarity and compassion
⭐ Transmute your new understanding of your assumptions, triggers, and survival strategies into a "test" that is specific and measurable to you
⭐ Progress through a proven, research-based process, with your coach alongside you helping to break things down into doable steps and holding you accountable to completing those steps
⭐ Tackle emotionally-charged leadership issues and habits alongside a supportive, highly-relatable peer community and at a pace that feels doable and sustainable
⭐ Co-design the individual pieces of your personal process with your coach and peer accountability partner
WHAT'S THE STRUCTURE/SCHEDULE?
This Cohort experience has 3 parts. Find details and dates below.
Cohort Calls are our whole group sessions where we'll collectively engage in the ITC process. It is imperative that you be available for these calls since they will not be recorded. Upon registration you will be added to the google calendar invitations. There will be 4.
3-5pm est/12-2 pst; Wednesdays
Aug 23, 2023; Sept 13, 2023; Sept 20, 2023; Jan 24, 2024
Accountability Partner Calls are calls between you and your accountability partner. We will pair you at the start of cohort experience with someone who we feel will be a good balance of having shared experiences to be able to feel understood and supported and a different outlook to be able to ask the kinds of questions that will push your understanding of yourself deeper. To assist with scheduling, we will hold these times on your calendars for you, though these can be rescheduled within the given week if both partners are willing and can find a mutually appropriate time. Upon registration you will be added to the google calendar invitations. There will be 5.
3:45 - 4:45pm est/12:45 - 1:45pm pst; Wednesdays
Oct 4, 2023; Oct 18, 2023; Nov 1, 2023; Dec 6, 2023; Jan 10, 2024
Coaching Calls are calls between you and your EMD ITC Coach Samuel. These calls are where you will get deep coaching to create your ITC Map and understand and overturn your immunity. Upon registration you will have access to a calendly link to schedule these coaching calls. There will be 6.
Weeks of Aug 14; Aug 28/Sept 4; Sept 25; Oct 9; Oct 23; Nov 27
I'M INTRIGUED BUT HAVE QUESTIONS/NEED MORE INFO!
Want to talk to someone from our team before you commit? We get it! Schedule time with Samuel Allen, coach and facilitator of this offering here.
If you prefer email, you can reach us at [email protected] and we'll get back to you soon!
Your Instructor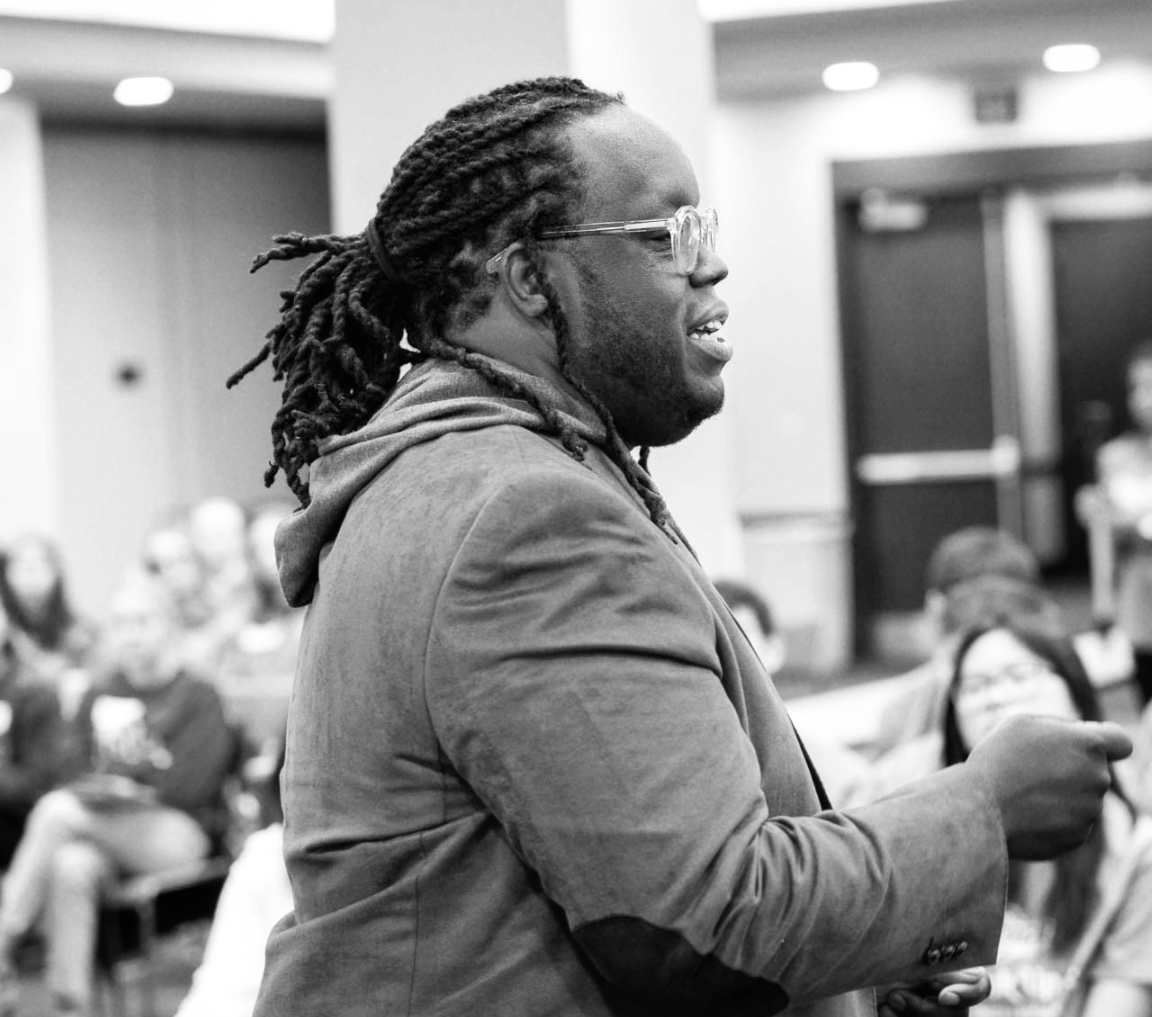 Samuel has spent the last 25 years coaching clients across an eclectic spectrum of local community service organizations, national non-profits and international corporations. His work has focused on supporting leaders, and specifically C-Suite Executives, through the design and execution of systems level change.
As a husband, father of two daughters and son of a superhero, Samuel remains grounded in the idea that individuals are capable of solving even the most complex of problems. As a coach, his role is merely to provide the essential methods, tools, and processes folks need to support them in developing a deeper and more authentic level of self-awareness, thus unlocking their existing capacities and tapping into their unrealized potential. He deploys Immunity to Change (ITC) methodologies and fortifies them with the equityXdesign framework. Underpinning his approach is his profound conviction that our collective liberation is interconnected.
In his coaching relationships, clients often express feeling genuinely seen, supported and understood—more so than in some of their deepest, longest-standing relationships. Such sentiments, to Samuel, represent the most genuine form of appreciation a coach could ever receive. It reaffirms his commitment to his craft and his role in enabling individuals to find their own path.
Course Curriculum
Immunity to Change Welcome
Available in days
days after you enroll